About Us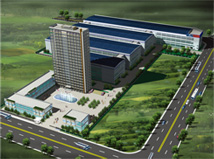 Our company is located in Hangzhou City, Zhejiang Province which is with developed economy and beautiful landscapes.The transportation is convenient.It is 200km away from Shanghai port ,160km away from Ningbo port,180km away from Shanghai Pudong Airport, and only 20km away from Hangzhou Xiaoshan Airport.
As a member of China Refrigeration Institute and China Refrigeration Industry Association, Hangzhou Dawn Refrigeration Equipment Co., Ltd. is a joint stock corporation specializing in researching, manufacturing and selling highly efficient finned heat exchangers applied to refrigeration equipment. Our products are used in air conditioning and refrigerating equipment, such as industrial or civil dehumidifiers, ice makers, water dispensers, auto air conditioners, military air conditioners, freezing & chill cabinets for food, centralized air conditioners, commercial air conditioners, household air conditioners and heat exchangers of air conditioners in speedy railway and subway systems.
Established in 1996, our company has been awarded honorable titles of "Refrigerating Pioneer Enterprise in Zhejiang Province", "Quality Effect Enterprise in Zhejiang Province", "Quality-Trustworthy Enterprise Recommended by China Refrigeration Institute" and "Enterprise Strictly Obeying the Contract and Keeping Promises in Zhejiang Province".
We consistently insist on the operating principle of "regarding market as the guide, taking technology as the support and treating advanced management as the guarantee". Our company keeps on the routine of specialization. Our company has passed the evaluations of ISO9001 quality certification,CUL certificate and UL certification. The number of UL file is SA32430.
Our Product series are complete, There are total FIVE Classifications according to tube diameter: Φ7, Φ7.94(Φ5/16"), Φ9.52(Φ3/8" ), Φ12.7(Φ1/2"), Φ15. 88(Φ5/8") There are total FOUR Classifications according to material: copper tube + Al fin, copper tube + copper fin, Stainless steel tube + copper , stainless steel tube + Al fin
Our company has independent import and export rights. Focusing on technology innovation and new product development, our company actively develops domestic and international markets. Our products sell well in Taiwan Area, America,Germany ,Italy,Japan,Korea and Brazil etc. Our company has become a fixed supplier for the biggest ice maker and second largest dehumidifier enterprises in America.